Blog to 10X your programming career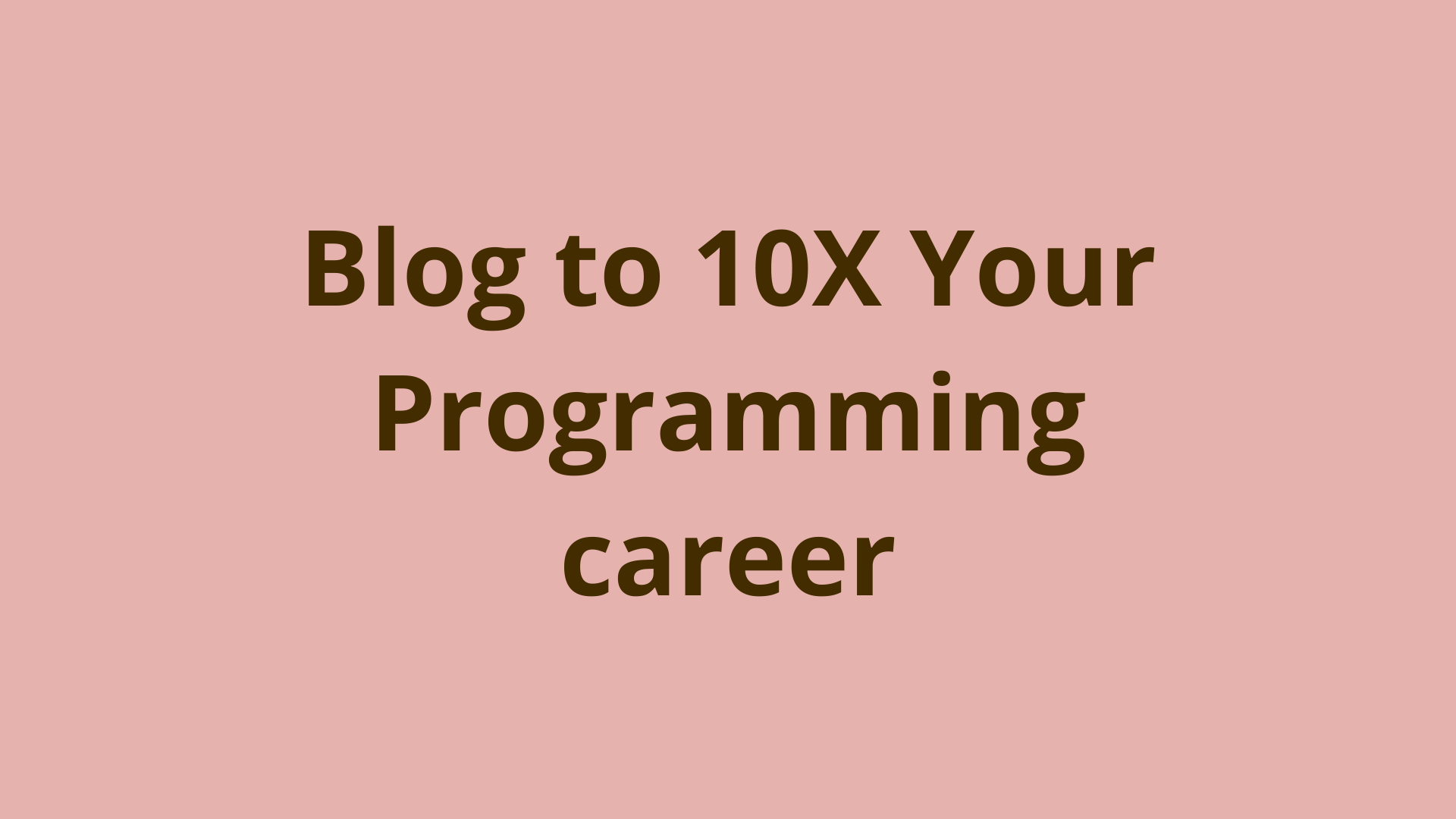 Table of Contents
Introduction
"There is a slight change in the requirements!" ** - Every Boss Ever.**
If you are a software developer like I am, this is a quote you've certainly heard before. It could have been at the start of a project, when it doesn't really matter. But if you are one of us, one of the many, you've heard it right when your code was taking shape and the structure set in stone.
This was the beginning, why I started a blog in the first place.
This week I interviewed a few of my Developer friends whom I share an online presence with, and found some of their reasons for starting a blog:
Niall was so afraid that he was going to start hating his job, or that he would end up in a necktie workplace doing boring stuff, that he took up writing and hasn't looked back.

When Beverly started writing about code she was afraid she might lose her job because she didn't feel as capable to keep up relearning all her skills as she did in her twenties (She's 32 by the way).
My point is, these people are making tons of money right now from blogging AND writing code. The kind of code they enjoy writing, not the code crappy managers force them to write. So if your motivation is the dream of being free from your 9 to 5 job, turbo boost your career and make money from the comfort of your own home. Let's work on the exactly how to achieve this.
Fixing your mind bugs
Some people say...
"I am not a great writer"
And you don't have to be. You are not competing in a writing contest. You are building your brand. I know so many great bloggers that couldn't even properly spell when they wrote their first post.
All you need for your writing is consistency. I don't know any great blogger who doesn't take that seriously. And in time, believe me, your style will get better.
"This means marketing and it sounds hard"
It's so much easier than you think. It's a skill actually, and you can learn it just as you learned to code. Here, Blog for your Life by Marty Jacobs can teach you ways to build your blog and scale it to have a global audience.
Blogging is an excellent way to market yourself because people get much more aware of you and what you know.
For example, if you are applying for a new job, your name might not be unknown to your new boss, or your blog might serve as an actual portfolio. So it is much more likely that you will land the job.
The same holds true for publishing an app. Of course, you can also market yourself just on regular social media platforms, but a blog is your own place on the web. It's like your store. Everything you post is yours and you make the rules.
"I am no expert, what should I write about?"
If you envision yourself more as a learner than a teacher, that's fine. The best moment to teach something is right after you've learned it because you can still relate to people who don't know it. In this post, "Teach programming to become a better programmer" highlights how teaching coding can make you a better developer.
Writing AND learning, at the same time, is actually half the fun and it helps you stay updated. Plus, I've made another very interesting observation:
When I'm writing a blog post on a familiar topic, I'm always learning something new about it, even if I thought I was an expert. That's the reason they say "The fastest way to learn something is to teach it." And the most fulfilling part is that there will be a lot of people who will say "Thank you!" Hearing those kinds of things brings a warm feeling.
Giving something back to the developer community is important. It builds your authority, has the potential to boost your career, and help others at the same time. Give it a try!
Ways to earn money blogging
Monetize from advertising with Google Adsense or sponsorships
Before you start monetizing your content, you have to bring some traffic to your site, and that means you need to have a few quality blog posts under your belt. So, on building traffic, I know there's no fun creating a blog that nobody reads. The key thing here is to create quality content that people will want to share and link back to.
Keep creating good content so people will bookmark your site and keep coming back for more. There is no shortcut here, it just takes some time. The more blog posts you have and the longer they sit, the more likely it is that you will have at least one post that goes "viral". Viral posts increase your traffic permanently!
Another good strategy to build traffic is to comment on other people's software development blogs. This strategy can get you more visitors daily and get you exposure when people go back to your site.
Now be careful, you don't want to spam other people's blogs, try to add valuable comments that actually contribute to the post, and find a sensible reason to link back to your site.
Share your posts on social media and learn some basic SEO. If your blog is built in WordPress, you can find SEO plugins like Yoast SEO which will do most of the work for you.
There's a lot you can learn about SEO, and I recommend reading this book I've mentioned above.
Finally, keep in mind that writing high-quality posts often and consistently brings the most traffic to your blog!
Making money
Google Adsense is a great way to get started making money off your blog, because you can easily get accepted in their program (I advise you to write at least 10 posts before you apply), and any cost per impression (CPM) and cost per click (CPC) income you earn turns into passive income.
For example, the developer and blogger Nic Raboy from The Polyglot Developer earned $4000 extra money last year, just from Adsense.
It all sounds pretty good, but the downside (there is one) is that Adsense is a slow way to make money from a programming blog. It takes a lot of posts and a lot of traffic to raise a decent income.
But, because you've started writing good developer content, businesses will be interested in using your traffic and content to promote their brand. Now, this is an opportunity to earn some better sponsorship income.
If you believe there's nothing you can offer, think again! You can host sponsored guest content on your blog, you might receive special advertising opportunities, and much more.
Promote affiliate products
Affiliate marketing is really profitable
This is how it works: you get paid a commission every time you refer others to a product/service using a special link. The more people click on your referral link and buy, the more money you make. Sounds good right?
You can display banners for affiliate products, but the best way to get people using your link is to write meaningful content that has something to do with the product.
Some of the best methods to promote products are: to build tutorials that use the product in some way or another, write list posts and take care to add the product to your list or write reviews to promote products you are paid for. Remember, the best recommendation comes from products that you actually use. People value your honest opinion and experience.
Sell your own products
Building your business is the most independent you can get. Best marketers are making their money from selling products they created or products they commissioned. Products that sell are those that really solve a problem your audience is facing.
Choose a platform that helps you sell digital products, like SendOwl, DPD or Selz. There are many platforms you can choose from, just keep in mind to go with a platform that allows you to recruit your own affiliates.
Here are some product ideas that sell great online: WordPress themes, plugins and other software are all very popular.
If you have an idea but you don't feel like taking your time to make it happen, look into getting a co-founder on board or hire a freelance developer to help you.
Conclusion
The worst thing you can do is just read my post and keep on dreaming about starting a blog or making money off the one you have.
Take what you just read and put it into action. Find your niche, write some awesome content and let your blog do the rest for you!
Back to Blog